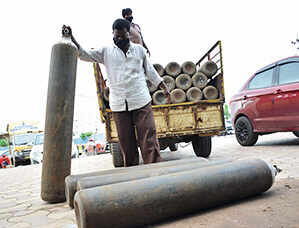 Pune: The Centre has decided to import one lakh tonnes of liquid medical
oxygen
over a three-month period, anticipating the possibility of a second wave of
Covid-19
in the country during winter, the All India Industrial Gases Manufacturers' Association stated on Monday.
The All India Industrial Gases Manufacturers' Association (AIIGMA) oversees oxygen supplies in India.
Association president Saket Tiku, who has been appointed member of the committee set up by the ministry of commerce and industry to ensure adequate supply of medical oxygen in the wake of Covid-19 pandemic, told TOI that tenders have been floated for the import.
Since Maharashtra was the worst affected in terms of Covid-19 cases as well as shortage of liquid O2 when the pandemic peaked, he said, the state was likely to get a share from the 1 lakh tonne of the gas to be imported.
"Maharashtra's liquid medical O2 use has already dipped to 370 tonnes a day from over an average of 600 tonnes a day after Covid cases reduced recently. But the plan to import medical O2 is to rule out any possibility of shortage if a second wave of the pandemic is witnessed during winter," he said.
"We now have enough medical oxygen. But the Centre does not want to stop oxygen supplies to industries if cases multiply during winter. This is the first time ever that India will import oxygen," Tiku said.
The worst hit among industries in the country due to the lack of industrial O2 supplies are currently in Maharashtra. The state is still supplying 20% of O2 to industries and 80% to medical facilities.
An official from HLL Lifecare Limited, a Government of India enterprise procuring O2 from other countries on the health ministry's behalf, said, "The allocation for the states from the 1 lakh tonne O2 to be imported will be decided later. The allocation will depend on the basis of the requirement."